Disney Springs News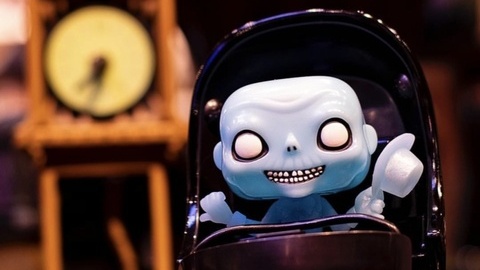 Haunted Mansion Funko POP to be Released Sept. 22!
September 17, 2018
On September 22, this exclusive new Disney Haunted Mansion Funko POP featuring the Hitchhiking Ghost Ezra in a doom buggy will be available at Disney's Pin Traders at Walt Disney World's Disney Springs.

It will also be available at Disneyland, at Disneyana on Main Street U.S.A., WonderGround Gallery in Downtown Disney, and Pieces of Eight in New Orleans Square.

The new figure will cost $40, while supplies last. Purchase limits will apply.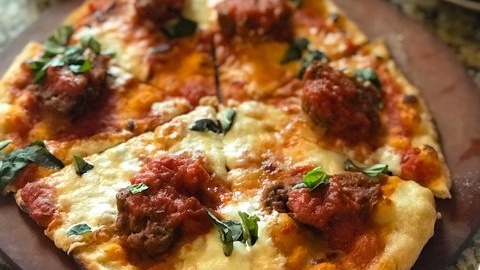 Meatball Mondays at Terralina Crafted Italian
September 17, 2018
Terralina Crafted Italian opened in Disney Springs The Landing this past summer. Now, they are working on making Mondays a little more bearable.

Terralina is introducing Meatball Mondays. On Mondays you'll be able to order one of the following meatball specials:
-- Meatball Sandwich ($14)
-- Meatball Pizza ($15)
-- Meatball Calzone ($14)
'Ralph Breaks VR' Hyper-Reality Experience Coming This Fall, More VR on Horizon!
September 14, 2018
Beginning this fall, Ralph Breaks VR, a multi-sensory, hyper-reality experience based on the upcoming Walt Disney Animation Studios film "Ralph Breaks the Internet," will debut. The new experience will immerse participants in the worlds of the internet and online gaming with Wreck-It Ralph and Vanellope, characters from the film.

In addition, The VOID and ILMxLAB have announced that they also will collaborate with Marvel Studios on an untitled Marvel experience coming in 2019. Three other original Disney hyper-reality experiences will follow, in collaboration with Walt Disney Animation Studios.
Passholders: 40 Percent Off Lunch at Maria and Enzo's and Enzo's Hideaway
September 12, 2018
Attention Disney Annual Passholders! Two relatively new Disney Springs dining establishments are now offering you a 40 percent discount on lunch, from now through the end of the year! This offer is valid at Maria and Enzo's and Enzo's Hideaway Tunnel Bar, both owned and operated by The Patina Group and located in The Landing section of Disney Springs.
Annual Passholder Super Saturdays Start in Disney Springs on Sept. 8
September 07, 2018
This Saturday, Sept. 8, 2018 from 9 to 10 a.m., Annual Passholders can take advantage of exclusive access to select locations at Disney Springs during the brand-new Super Saturdays program. And that's not all! There will also be limited-time special offers, discounts, and unique merchandise available.
Disney Springs Celebrates the Change of Season with New WonderFall Flavors
September 06, 2018
Disney Springs is getting in on the season change this year with its WonderFall Flavors food and beverage program starting September 7, 2018. The program includes sweet and savory food that you can pair with hard ciders and autumn-inspired cocktails. This seasonal celebration includes more than 14 restaurants and quick service locations throughout Disney Springs.
REVIEW: What We Thought of Chicken Guy! at Disney Springs
August 24, 2018
AllEars.Net's Deb Wills discovered Chicken Guy!, the new fast-casual dining spot at Disney Springs that serves chicken tenders in innovative ways.
Now Open: 4R Cantina Barbacoa Food Truck
August 22, 2018
The 4R Cantina Barbacoa Food Truck opened Aug. 21 at Disney Springs. Stationed at the Marketplace near Basin and World of Disney, this new offering brings the flavors of Mexican-style BBQ with build-your-own tacos, burritos, nachos and more!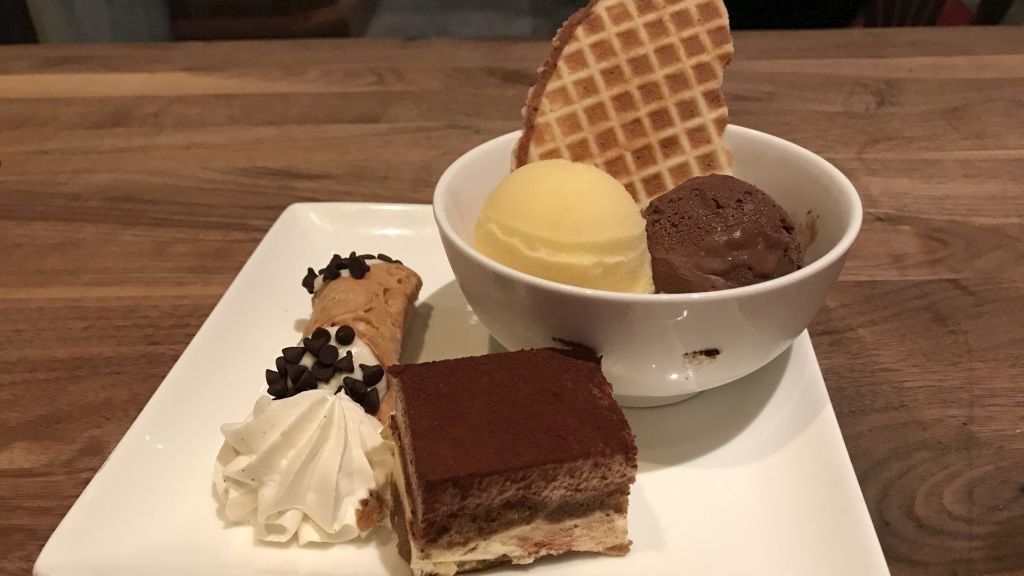 REVIEW: Superb Sunday Supper at Enzo's Hideaway Tunnel Bar
August 15, 2018
AllEars.Net's Deb Wills enjoyed the new Sunday Supper at Enzo's Hideaway Tunnel Bar in Disney Springs and shares her thoughts, along with many great photos from the delicious dining experience.
Newest Dooney and Bourke Bags Now at Disney Springs!
August 11, 2018
Exciting news for Dooney and Bourke lovers -- the newest bags featuring a bright Mouse Ears pattern will be available at Ever After Jewelry Co. and Accessories at Disney Springs today, August 11, 2018.
4R Cantina Barbacoa Food Truck Coming to Disney Springs!
August 07, 2018
The 4R Restaurant Group, owner of 4 Rivers Smokehouse, is launching its newest dining concept in late August with the opening of its 4R Cantina Barbacoa Food Truck located in the Marketplace at Disney Springs.
Chicken Guy! Now Open at Disney Springs!
August 02, 2018
Chicken Guy!, a new collaboration between celebrity chef and TV personality Guy Fieri and restaurateur Robert Earl, opened tonight (Aug. 3) at Disney Springs. Chicken Guy! is a fast-casual chain dedicated to serving chicken tenders paired with more than 20 types of sauce. The AllEars.Net Team had a chance to preview the restaurant just a day ago and was able to sample some of the food, as well.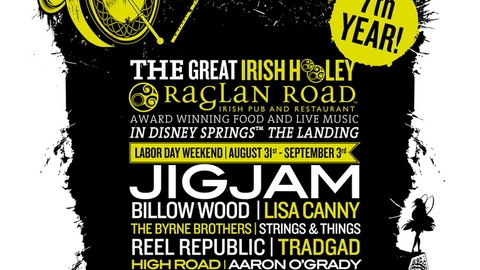 'Great Irish Hooley' Returns Labor Day Weekend to Raglan Road
August 02, 2018
Raglan Road's popular 'Great Irish Hooley' Festival returns to Disney Springs over Labor Day Weekend, Aug. 31-Sept. 3, 2018, for the seventh year. This high-voltage Irish music festival will serve up a colorful live playlist of traditional Irish, Celt grass, folk, blues and soul both inside and outside the Pub.
Menu Mania: A Recap of What's Changed in our Menus
July 28, 2018
Each week in the AllEars Newsletter, we tell you that we are continually updating our dining database, and we give you a few highlights. But maybe you're wondering what exactly that means.

In a nutshell, it means that each and every week we are gathering menus from various Walt Disney World restaurants and then updating them on our site. We are also adding photos of the menu items as we go, not to mention photos of the dining locations themselves. Sometimes we even add videos!

We thought you might find it of interest to see exactly what has changed each week, so we've decided to present you with a weekly recap diving into a little more detail.
New Entertainment at Raglan Road Irish Pub and Restaurant
July 26, 2018
A brand-new show - Rhythms of Raglan 2018 - has launched at Raglan Road Irish Pub and Restaurant in Disney Springs after months of rehearsals in Ireland.

Raglan Road Show Director David Hayes promises "an authentic cultural journey that's both 'lyrical and rollicking' ... it will take us from Ireland's Ancient East to the most contemporary of Irish traditional musical content and ideas, all topped off with dance routines that punch and float in equal measure."
Guy Fieri and Robert Earl Launch Chicken Guy! at Disney Springs
July 25, 2018
Celebrity chef and TV personality Guy Fieri and restaurateur Robert Earl today announced their collaboration that will bring a new dining concept to Walt Disney World. Chicken Guy!, a fast-casual chain dedicated to serving chicken tenders paired with more than 20 types of sauce will launch its Disney Springs flagship location this summer.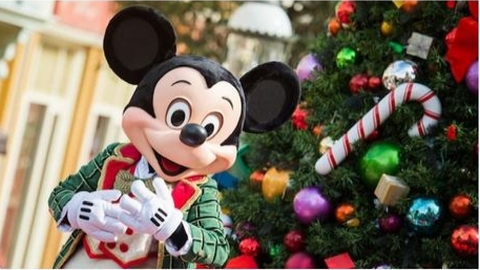 Yuletide Fantasy Tour Reimagined for 2018
July 24, 2018
The Yuletide Fantasy Tour takes you backstage where you will learn all about the logistics involved in turning Walt Disney World into a winter wonderland. The tour (as most all the tours now) are run by Adventures by Disney. Deb Wills previewed the tour, which has been reimagined for the 2018 holiday season.
Preview: What's New for This Holiday Season
July 20, 2018
Walt Disney World held a special "Christmas in July" event for media to share a preview of what will be new in the parks this coming holiday season.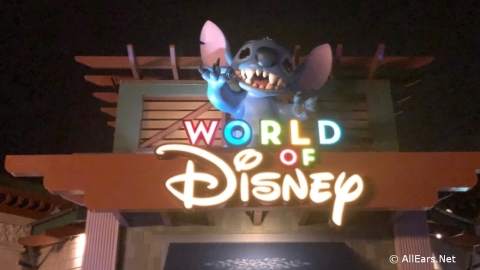 World of Disney Renovation Update
July 20, 2018
As you probably already know, the World of Disney stores at both Disney Springs in Orlando and Downtown Disney District in Anaheim have been undergoing extended renovation that started in February of this year.

One of the AllEars.Net team was wandering around the Disney Springs Marketplace the other evening and captured a few photos of this work-in-progress, so we thought we'd share and get your thoughts.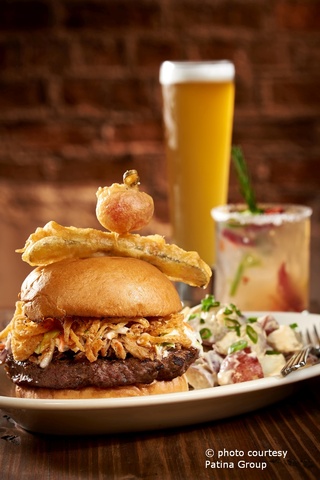 Edison Featuring Red White & Blue Burger
July 15, 2018
The Edison at Disney Springs launched a Burger of the Month Series several months ago. This month's offering, "The Red White & Blue Burger," is layers of short rib and brisket garnished with housemade BBQ pulled pork, fried onions, and coleslaw.